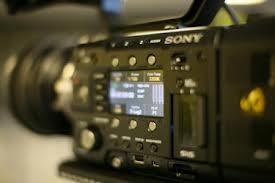 Les prix des SONY F5 & F55
Ce sont bientôt les fêtes de Noël, et bientôt la fin du monde aussi. Par conséquent, rien ne vous retient de craquer votre PEL pour vous acheter les dernières caméras F5 et F55 de SONY. Et bien même que ça tombe bien parce que les prix viennent d'être rendus publics. Comme d'habitude il s'agira de prix publics conseillés, il n'est pas impossible que certains revendeurs les proposent à moindre coût.
PMW-F5 15,340 €
PMW-F55 27,804 €
AXS-R5 S35mm F-series External RAW Recorder 5,206 €
AXS-CR1 Access Card Reader 549 €
AXS-512S24 Access Card 512GB for AXS-R5 External Recorder 1,535 €
SCL-PK6/F CineAlta PL Lens Pack (6 lenses) 19,895 €
SCL-PK3/F CineAlta PL Lens Pack (3 lenses) 11,118 €
Voici donc de quoi vous faire une idée de votre budget pour tourner votre prochain document audiovisuel en 4K!
Alors que les premières impressions de la C500 commencent à être mis en exergue sur la toile, les tarifs proposés par SONY sont bien évidemment définis pour rentrer en concurrence avec le camescope CANON. Mais à ce stade là il ne s'agit plus de concurrence, le C500 présentant de larges faiblesses par rapport à son homologue Cinealta. Le blog EOSHD consacre d'ailleurs une comparaison pour le moins intéressante de ces deux caméras.
Canon C500 vs Sony F55

As highlighted by Nino Leitner in his recent real-world shoot "ALEX" and review the camera lacks the ability to record 4K or raw internally. This leaves one to ponder – what precisely are you getting in terms of camera hardware for your extra $10,000 over the C300? You need to buy an external recorder to make it any fundamentally different.

Whilst the internal codec at €25k on the Sony F55 is 4K 16bit raw, it is a frankly laughable by comparison 8bit MPEG at 50Mbit on the C500. This is exactly the same as the image processing hardware you get on the C300!

Canon does not have their own external recorder, you must by a third party one which adds between $5k and $10k to the price and attaches via 3G HD-SDI cables. Not an ideal solution to say the least. Acceptable as a hack to get ProRes out of a $6500 C100 maybe but not on a $25,000 camera.

The Sony F55 not only does 4K raw up to 60fps, it does so internally. No need for a Gemini or Codex and the recording hardware is included for that €25k street price. The C500 has another issue in that the fan to cool the sensor and internal circuitry to transport all that data to the 3G HD-SDI is audible during most quiet dialogue scenes.

I've talked to various filmmakers and directors about the Alexa (it is just totally dominant in Germany especially in TV) and just about the only real criticism is that it has a CMOS rolling shutter. Sony have taken aim at the Alexa here let alone the C500 because the F55 has a global shutter readout. The Canon C500 still uses a rolling shutter like on the C300 and DSLRs.

Here's a full list of advantages that the Sony F55 has over the Canon C500…

Sony F55 is cheaper 4K solution. Recording hardware is included at €25k (street price likely lower)
The C500 restricts you to either PL or EF mount. The FZ mount on the F55 is interchangeable between PL and a positive locking E-Mount, with adapters to EF and countless more
4K / raw recorder is via cabled connection to C500 (not ergonomic, a hassle and a stability risk) but internal on the F55. (Meanwhile F5 box is integrated and modular).
C500 is rolling shutter like a DSLR, the F55 has a global shutter
The F55 has the same colour filter array as the very high end CineAlta F65 whilst the C500 features a similar if not identical sensor to the $6500 Canon C100
The C500 has known fan noise issues
Je ne saurais que trop vous encourager à aller lire l'article en entier (
en cliquant ici
). Il s'avère très instructif.